The Clash VIII – Day 1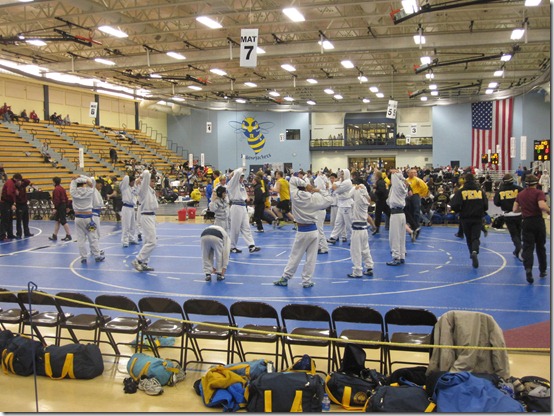 Day 1 of The Clash is in the books and it was a day of good, but frustrating, wrestling. We dropped two dual meets to very good teams, but can't help be frustrated that both duals seemed to turn on a single match. Overall we wrestled well and were head to head with one of the top teams in Minnesota (Plainville-Elgin-Millville) and the defending Colorado state champions (Ponderosa). But if not for a couple of mistakes, each of the duals could have gone our way.
We finished the day with a win against Byron (MN), a local team that answered the call to come to the tournament just last night. As such, they had some holes in their lineup and a few wrestlers who couldn't make weight on such short notice. In case you didn't see yesterday's post, a bad snow storm forced several teams to drop out of the tournament at the last minute. Byron and Zumbroda-Mazeppa both stepped up and entered the tournament with little preparation and helped make sure the brackets were balanced.

After grabbing a late lunch, the boys rested back at the hotel before their 7p study hall. We have an early start tomorrow so lights out will be at 9.
Overall, we're proud of the effort we put forth today, but need to work on eliminating some of the mistakes we made. Tomorrow we'll be in Pool 7 and looking forward to squaring off against three more tough teams. Our shuttle to weigh-ins leaves at 6:30am and our matches will be at 9:00a, 11:00a, and 1:00p.
Match Results
Loss to Plainville-Elgin-Millville (MN) 28 – 37
Loss to Ponderosa (CO) 31 – 39
Win over Byron (MN)