2012 ILH Championships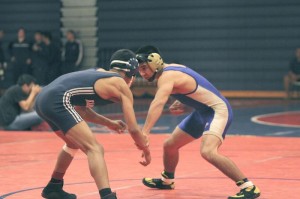 All 3 teams (JV/Vars/Girls) won their respective league championships this past Saturday…though only our JV team performed to the best of their abilities.
Our JV team put together an outstanding tournament, and truly set the bar for the Vars and Girls to step up to moving forward to this weekend's state tournament.  We had several weight classes where 2 of our wrestlers placed, and 2 weight classes where it was Punahou vs Punahou in the finals…something we emphasize is possible all week long.  The entire JV team can be very proud of their efforts all season, they truly paid off with a peaked perfomance at ILH Championships.
Our Girls team wrestled well, but certainly not their best.  We left a few matches out there without a 100% focused effort, and it cost us individually.  We have qualified 7 girls out of 11 weight classes for the state tournament, so we definitaly have our work cut out for us heading into the Blaisdell this weekend.
The Boys Varsity had a lackluster first round, which found several of us on the back side earlier than we should have been, missing the opportunity to be in the finals.  The good news is we finished with more effort and energy than we started, and we now have an opportunity to truly take a look at the importance of the first round both days of states…and trust me, we will discuss this as a team.  We qualified all 14 weight classes, which is always one of our goals.
We will work hard at continuing to sharpen both our minds and our bodies as we press toward this Friday and Saturday at the Blaisdell Arena for the state championship tournament.  We'd love to see as many of you as can make it there supporting our efforts as we represent your team moving forward.