ILH Championships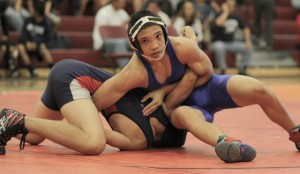 This past Saturday saw every Punahou wrestler competing for their respective ILH Championship.  The intermediate team had a frustrating start, losing several matches in the last few seconds by giving up a big move…they were able to rebound slightly and finish the tournament tied for first with Kamehameha.  We expect there will be several good lessons of mat awareness and match strategy learned for the future by many of these young, hard working wrestlers.  Kudos to Mike Lee, Todd Fujie, De Lau and the rest of the Intermediate coaching staff…we are most definitely continuing to make progress with the young ones.
The JV team had an even more frustrating performance, wrestling below their abilities on too many occasions.  They finished in 2nd, behind a very tough and loaded Kamehameha JV team.  We have a good  group of wrestlers who are willing to do the work, so we're gonna have to continue pushing forward and hopefully get many of them to attend the off season training and continue to improve on their abilities.  We know we can be better in the future.
The boys and girls varsity continued to strive for their ultimate goals, and put themselves in position to finish strong.  Both qualified all possible weight classes (14 for the boys, and 10 for girls (we don't have a 220 girl wrestler)) for the states this weekend.  Both teams were able to pull away from the rest of the teams over the course of the tournament and win the ILH Team Championships.  Though we know we still didn't wrestle our best, which frankly excites us as we don't need to truly peak until this weekend at states, we did have several key wrestlers work through their injuries and survive the weekend qualifying for states and with the potential to improve their health even slightly more through the week.  We expect to continue working hard this week and polishing up and improving our technique in certain positions, and know that there will be several teams pushing hard to finish on top this weekend, including us.
If at all possible, we'd love to see you either Friday and/or Saturday at the Blaisdell for the excitement of this tournament.
Thank you for all the continued support.