Washington Intermediate Goodwill Games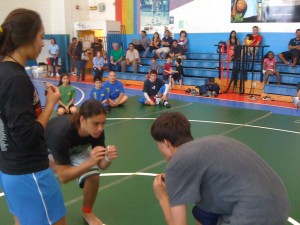 This past Thursday, May 20th Punahou wrestlers practiced and competed with the Washington Intermediate Eagle Wrestling Club for the last time this year.  This event capped off a successful month of joint practices and getting to know each other.
The day started off with warm-ups and team building.  Then our own Evan Johnson (2x state placer) started off a clinic with arm drag setups to a single leg.  Next Mckinley's Bradley Suda (2x state placer and runner-up this year at 108lbs) demonstrated one of his favorite single leg finishes (An inside trip).  After learning these moves and drilling, the wrestling started.  It was an action packed meet with a lot of scoring and good, hard wrestling.  In the most anticipated matchup of the night Brett Kumabe c/o '95 matched up with Brett Will c/'11 for an exciting match won by Brett Will.
Once the mats were put away we enjoyed a night of food and fellowship with the Eagles Wrestling Club and staff from the Boys and Girls Club.  We had a great time and would like to thank Coach Brett Kumabe for setting this up and providing us with such great opportunities.  What a coach!
We had a great time and look forward to working with them next year!