Girls & JV Win, Varsity 2nd at ILH Dual Meet Tournament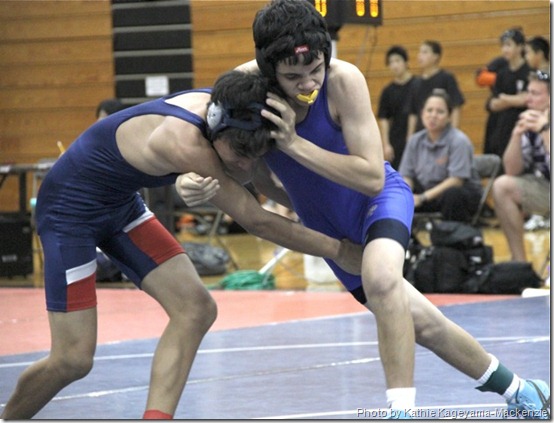 Our Girls wrestled well this weekend, while the Boys (at both levels) have a lot of work to do as we head into the last week of the ILH season. The Girls looked sharp as they avenged two earlier losses to Kamehameha and repeated as ILH Dual Meet Champions. We're particularly proud of the Girls' performance, considering they're still forfeiting three weight classes.
What JV lacked in execution, they made up for in tenacity as they held off Kamehameha to win the tournament. Always spirited, but often sloppy, we've got some work to do in this final week of their season to polish our fundamentals and get on track for a strong finish.
A very fired-up Kamehameha team simply out-hustled and out-fought us at the Varsity level to win the tournament and prevent our boys from winning for the fifth consecutive year. Individual match victories were knotted at 7-7, but Kamehameha had more pins and more major victories as they scrapped to a 31-24 victory. Like the JV, the Varsity Boys have a lot to work on in this final week of the ILH season and we hope we can make the necessary adjustments.
Boys Varsity Final Standings
1) Kamehameha
2) Punahou
3) Iolani
4) St. Louis
5) Damien
6) Pac-5
Finals Matches
1st Place – Kamehameha beats Punahou 31-24
3rd Place – Iolani beats St. Louis 51-21
5th Place – Damien beats Pac-5 38-30
Girls Varsity Final Standings
1) Punahou
2) Kamehameha
3) Pac-5
4) Iolani
Finals Matches
1st Place – Punahou beats Kamehameha 33-27
3rd Place – Pac-5 beats Iolani 33-12
Junior Varsity Final Standings
1) Punahou
2) Kamehameha
3) Pac-5
4) St. Louis
5) Iolani
6) Damien
Finals Matches
1st Place – Punahou beats Kamehameha 33-31
3rd Place – Pac-5 beats St. Louis 42-36
5th Place – Iolani beats Damien 36-28