The Clash VIII – Day 2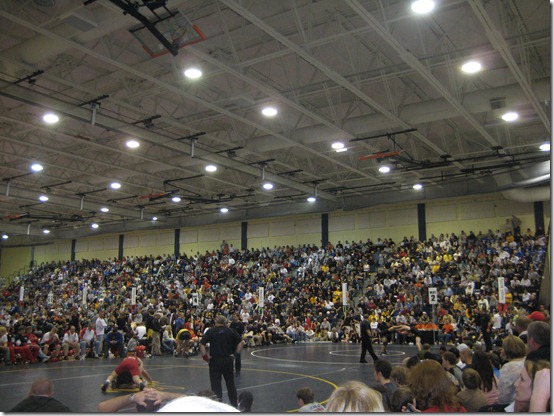 My apologies to our readers for the delay in this update. Saturday was a marathon of wrestling-related activities and of course, Sunday we made our way home.
Day 2 of The Clash started with a 6:30am shuttle to morning weigh-ins. The snow that had caused so much chaos the day before had stopped, but the morning temperature had dropped to –18. To be honest, the morning cold was probably a blessing, as it helped wake the wrestlers up in spite of fighting the four hour time difference
Our first dual was against La Quinta (CA) and starting at 160, we got off to a great start. We won by fall in the first five matches and La Quinta was never able to recover. We finished the match 66 – 9 and racked up 10 pins.
Our next dual was against Kaukauna (WI), one of the better teams from Wisconsin. We wrestled well, but simply ran into a better team and lost the dual 27 – 45. There were some tough individual matches, including a battle of state champions at 171. The Minnesota Sports Broadcast Network has video of that dual archived here.
Our last match of the day was also the most exciting. We wrestled Baylor (TN), the defending D2 state champions from Tennessee. Baylor jumped out to an early lead, but our wrestlers kept grinding away to close the gap. Going into the final match, we were tied at 27 when Patrick Sheehan sealed the deal for us with a pin to secure a 33 – 27 victory. The coaches were especially proud of a great team effort. Many of our key matches weren't victories; rather they were wrestlers who hung tough even though they were overmatched. We often remind our wrestlers that win or lose, every match counts and every wrestler has a role to play. Our dual against Baylor was a great example of that point.
Throughout the tournament, everyone wrestled very well, but we did have a few notable individual performances. Kolu Buck (215) and Sani Fuimaono (285) both joined the prestigious "6-0 Club", going undefeated in the tournament. Jordan Ng also wrestled extremely well, finishing 5-1.
Based on a respectable 3 – 3 record, we finished the tournament as runners-up in Division 7. As in our last trip in 2008, we learned a lot about ourselves as we matched up against top tier competition. Though we competed well against some very good teams, we still have a long way to go in improving our technique and reducing mistakes.
After our session was over, we spent the evening watching the championship brackets and witnessed some outstanding wrestling. Apple Valley (MN) (#2 in the country) was dominant, but Simley (MN) gave them a run and proved they are also among the best teams in the country. Perennial powers Montini Catholic (IL) and Wisconsin Rapids (WI) were also fun to watch. Final standings in The Clash VIII can be found here and there is a lot of great video on MSBN and Flowrestling.
When wrestling was done, we finished the day with a late night run to a local pizzeria and finally turned in around 1a. It was a long 18-hour day, but one I know we won't soon forget.