Jan 15 Duals – A Solid Performance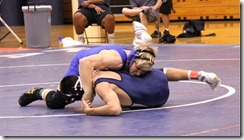 We put in a solid performance in our Friday night duals, wrestling much better than we did on Tuesday. The Girls kicked off the night with a strong outing against Pac-5. Due to forfeits on both sides, we only wrestled head-to-head in six matches and won all by pin.
The Boys wrestled much better than they did Tuesday. The JV team shook off the sloppiness they showed earlier in the week and put in a solid performance against a very good Kamehameha team. There were some hard fought matches but the JV boys fell short 30 – 45.
The much anticipated Varsity match against Kamehamea – a rematch of our final at the Iolani Dual Meet Tournament last month – didn't quite live up to expectations due to line-up changes by both teams, but there was some good wrestling nonetheless. Even without starting line-ups in place, our rivalry with Kamehameha is always intense and always produces some exciting match-ups. This week was no exception, with great battles at 120, 189, and 215. Thanks to simple, hard-nosed wrestling, the Varsity pulled off a 38 – 18 win.
All in all, a good night of wrestling for us. We still have quite a bit to work on, but the coaches are comfortable with how we're wrestling at this point in the season. Next up is Iolani on Tuesday (at Punahou), then the always exciting ILH Dual Meet Tournament, Friday & Saturday at Iolani.
Final Results
Varsity win over Kamehameha 38 – 18
Girls win over Pac-5 48 – 12
JV loss to Kamehameha 30 -45