Girls Win; Boys take Second at Iolani Duals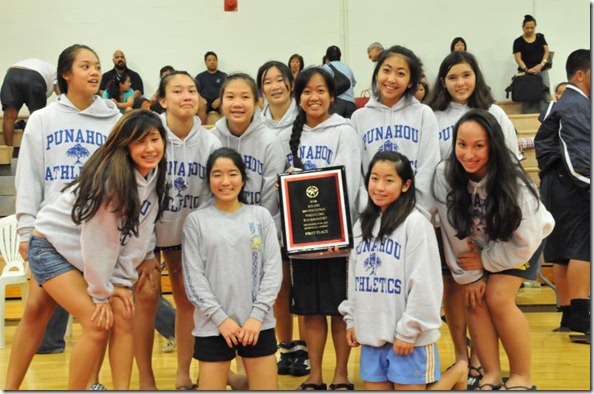 Both Boys and Girls teams wrestled well last week and finished strong at the 2009 Iolani Dual Meet Tournament. The Girls charged through the tournament, going 6 – 0 to win for the second consecutive year. The Boys also wrestled very well, but lost a close one to Kamehameha in the finals.
The energy level was a bit low for both teams as they started their matches on Tuesday, but ramped up nicely as the tournament proceeded. In spite of forfeiting three weight classes, the Girls wrestled well enough to overcome the deficit throughout the tournament. The Boys also won comfortably until the finals, where they rested three starters in preparation for this week's trip to the National High School Duals in Rochester, MN.
All in all, the coaches were very satisfied with our pre-season performance and are anxious to kick off regular-season competition this week.
Girls Results
| | | |
| --- | --- | --- |
| Opponent | Score | |
| Campbell | 34 – 24 | W |
| Aiea | 36 – 18 | W |
| Pac-5 | 30 – 21 | W |
| Kamehameha | 29 – 23 | W |
| Iolani | 36 – 18 | W |
| Pearl City | 36 – 12 | W |
Boys Results
| | | |
| --- | --- | --- |
| Opponent | Score | |
| Pac-5 | 69 – 9 | W |
| Iolani | 67 – 6 | W |
| Moanalua | 66 – 9 | W |
| Ontario (OR) | 57 – 14 | W |
| Campbell | 57 – 19 | W |
| Kaiser | 60 – 18 | W |
| Campbell | 54 – 18 | W |
| Kamehameha | 31 – 33 | L |