2010 ILH Season Begins!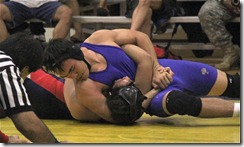 We opened our 2010 campaign with the boys wrestling St. Louis and the girls wrestling Kamehameha. Overall, a solid, if sluggish, performance and we were able to come away with victories at the varsity level.
We wrestled upstairs in our wrestling room, which is a great venue since the fans are right there on matside. Though it can be a bit crowded for the fans, the noise and energy level is great for the wrestlers.
St. Louis wrestled our varsity boys well, but simply gave up too many forfeits. JV boys put forth a great effort, but with poor execution and lost their opening dual. And that's not to take anything away from St. Louis. They came out fired up and simply out-wrestled us. The girls did a great job overcoming four forfeits, but still seemed to lack a some of the fire they showed during the pre-season.
Perhaps it's the weight of finals week, but we have a short window of time to make some adjustments before the boys hit Kamehameha and the girls take on Pac-5 this Friday. Our level of wrestling is adequate for this point in the season, but we have a lot of things to work on if we hope to repeat as champions.
Results
Varsity win vs. St. Louis 64 – 15
JV loss vs. St. Louis 24 – 47
Girls win vs. Kamehameha 36 – 27