Punahou Returning to "The Clash"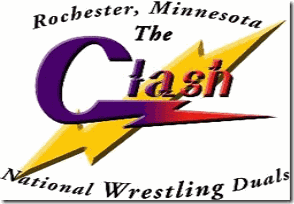 Pack the parkas, we're going back to Rochester! We had an incredible trip two years ago, wrestling in one of the top dual meet tournaments in the country and freezing our okole off. And now we're going back for another dose of national caliber competition.
We learned a lot on our last trip, losing soundly to a top 10 team, but wrestling well enough on the second day to win our consolation bracket.
This year will be even tougher. The competition features 13(!) state championship teams and 10 teams that are nationally ranked.
As you can imagine, taking a wrestling team to Minnesota costs a lot of money, so we?ll be kicking off our fund raising efforts shortly. If you'd like to help, please contact Coach Jimmy.
We're scheduled to leave on January 6, 2010, returning on the 10th. I'll be blogging the trip on our web site, so please check back often.
Click here for updates on our trip.