2009 — What a Year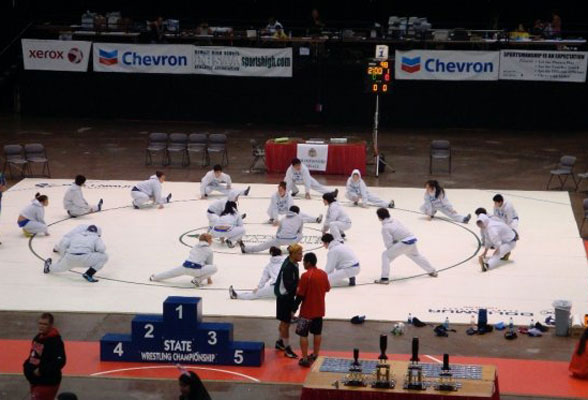 Though months have passed since the end of the season, the pride we have in the accomplishments of our wrestlers hasn?t diminished.
Our Girls had a breakthrough season, winning their first-ever ILH and State Championships. Led by senior State Champions Jt Ojerio & Ilima-lei Macfarlane, our relatively young girls team medaled in 7 of the 11 weight classes and finished the state tournament just 3 points shy of the scoring record.
The Boys powered their way through the season, breaking their own scoring record on their way to winning a third consecutive State Championship. Their 8 finalists and 12 overall medalists were also high marks for the state tournament. The boys also finished the season undefeated in dual meet competition, capturing their fourth straight ILH Championship.
Congratulations to boys individual State Champions Reid Oshiro, Maika Nagata, Patrick Sheehan, Kolu Buck, and Sani Fuimaono.
Our JV team continued their domination of the ILH, capturing their 5th consecutive ILH Championship. They finished their ILH dual meet season undefeated and won 9 (out of 14) individual championships at the ILH tournament.
None of these accomplishments would have been possible without the incredible leadership of our senior class. This year?s seniors have really been the catalyst of our recent success, starting as freshmen role players in our breakout ILH championship team of 2006 and growing into the fantastic role models that made this year?s awesome performance possible.
Whether they were able to wrestle in the state tournament or not, every single one of this year?s seniors played an indispensible role in our championship season. Whether they were striving to become a state champion, or pushing their teammates every day in practice, all of our seniors set a high bar for work ethic, camaraderie, and character that makes us all proud to be a part of this program.
We bid a fond a hui hou to our graduating seniors and know that their contributions will be felt for years to come. Aloha to Shelby Asato, Lani Fonua, Ilima-Lei Macfarlane (Captain), Jt Ojerio (Captain), Andrew Hirai, Erik Horn, Passi Iafeta, Kevin Kiyohara, Troy Murakawa, Maika Nagata (Captain), Reid Oshiro (Captain), Christian Sanchez, Arnold Toriumi (Captain), Kevin Ueunten, and Alex Wachi.
Mahalo, too, for the incredible support of our parents. So much work goes into keeping such a large program running ? most of it outside the wrestling room ? and our parents have always been there in force. Thank you!
We certainly appreciated everyone who came to cheer us on at the meets & tournaments this year. Competing is so much more fun when we have such a loyal and vocal group of supporters?mahalo and we look forward to seeing you all again next year!