Success at the 2009 Brute-Adidas Nationals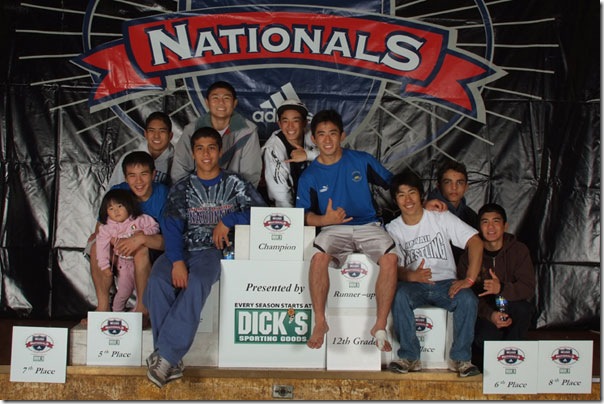 This past weekend we took 9 of our best wrestlers to the Brute/Adidas Nationals in Kansas City, MO.? This tournament has wrestlers from across the country, but mostly the Midwest (for obvious reasons), compete against each other within the same grade level. Weight classes all had a 3 lbs allowance from the NFHS weight classes.? Here's a recap of how they did:
We brought one intermediate wrestler, 8th grader LJ Remilard.? He wrestled very well, earning All-American honors by placing 3rd in the 158 lbs weight class, and learned some valuable lessons about chain-wrestling and wrestling with urgency.
Freshmen Bryant Fukushima (106) and Todd Murakawa (128) also earned All-American, placing 6th and 2nd respectively.? Bryant lost 2 matches to the same very tough wrestler from Team Monday (Kenny Monday-Olympic Gold Medalist 1992) in Texas, and then in his medal match, learned to "let go of the head" a little earlier, ending up stuck on his back while winning the match against a state placewinner from Missouri.? Toddie dominated every opponent on his way to the finals.? There he met an extremely tough, talented, explosive wrestler from Iowa, and when he was unable to finish a single-leg-up position with 15 second left in the 3rd period to tie, he lost a 2 point match to place 2nd.? After the match we found out that this was the Iowa boys' 3rd National Championship in a row, and that he had recently won the Iowa state championship at 119.? Todd was right in the match with a frosh state champ from Iowa, not too shabby.
Sophomores Evan Yamamoto (106) and Evan Johnson (155) also competed.? Evan Johnson wrestled well, winning one match and losing 2, one in OT and one by 1 point.? Overall he wrestled well, and we are pleased that he has proven to himself that he is capable of competing at this next level.? Evan Yamamoto also wrestled very well, and earned All-American by placing 7th.? This is a testimony to the strength of our program and our JV team, as long as we all continue to wrestle hard in practice every day.
Junior Jordan Ng (115) also earned All-American placing 3rd.? He lost a heartbreaking match on the front-side when, while winning the match, he ended up getting stuck on his back rather than bailing out and cutting his opponent loose for one or at worst giving the reversal and fighting off his belly.? He proved that he learned some important lessons about himself and his inner preparation from that disappointment, as he went on to dominate every subsequent opponent, including an extremely tough North Dakota (I think) state place winner in the 3rd place match.? Jordan has never looked better.
Our seniors shown very brightly, and were not only the "talk of the town" by the tournament coordinators, but were also catching the eye of several college recruiters in attendance.? Reid Oshiro (122) totally dominated his weight class, finishing the finals match with a 3-point tilt off a sweet takedown against a Michigan state place winner who had been named MOW of the toughest pre-season tournament in MI (as told to us by a college recruiter who was there to watch the MI kid). Pretty cool!?
Maika Nagata (128) also won his National Championship in dominant fashion beating an undefeated Colorado wrestler who had become ill (bedridden) just prior to their Regionals (state championship qualifying tournament) and was therefore unable to compete in the state championships.? This was communicated by a very proud father who was very impressed by the way Maika wrestled his son.
The highlight of the tournament was indeed Arnold Toriumi's (133) performances.? His first match was relatively uneventful, though it was evident that he hadn't wrestled a competitive match in 2 years.? The rust was incredible.? His quarterfinals match was against an extremely talented, technical wrestler from North Dakota (?-my memory fades).? They banged heads the entire match, and though Arnold had hit 2 solid takedowns out of bounds, that match was knotted at 1 with 10 seconds left in the 3rd.? Arnold hit another solid single-to-Barzegaard finish, and the kid's butt landed on the out-of bounds line, Arnold climbed up the body immediately, securing the takedown inbounds with less than 2 seconds on the clock.? His semis match was just as tight, though his takedown occurred in the first period, and the rest of the match both wrestlers attacked and countered each other extremely well.? His finals match was, believe it or not, not quite as tight, though the wrestler was a state finalist from Colorado (? again not positive I have the state correct).? He hit 3 takedowns out of bounds in the frst period, and had the kid backing up the entire rest of the match.? He eventually secured several takedowns inbounds through the rest of the match, and also got a few stalling calls against the kid, as Arnold remained relentless, as is his nature.
We brought 9 wrestlers, had 8 All-Americans, including 3 National Champs.? These seniors have now affectionately been dubbed "Murderers Row" by some of the parents in attendance.? It was a great trip, the wrestlers handled themselves respectively on and off the mat, the level of competition was excellent, and we look forward to taking this trip again next Spring.
Hope you all are well-
Coach Oney