Heart of a Champion
Though our preparations for the state tournament this weekend are not yet done, I feel compelled to recognize two remarkable young men. On Friday, 14 boys and 8 girls will step onto the mat, representing Punahou School in what we hope to be a very successful weekend of wrestling.
But there will be two young men who will not wrestle. Lord knows, they most definitely deserve to, but they will not be suiting up and they will not be competing. Nevertheless, they are critical to all the success we've had this season and if we are able to win this weekend, it will be a victory we could not have achieved without their leadership.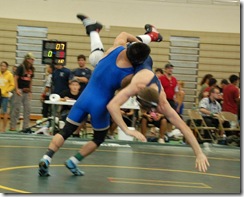 BRYSON FUKUSHIMA is one of our team captains and a three-time state finalist, winning a state championship his sophomore year. He is also an All-American, placing 8th at the Junior Nationals in Fargo. Most importantly, Bryson is one of the emotional spark plugs of the team. Always giving his best, thriving on challenges, and just plain fun to watch.
A little over two weeks ago, Bryson lost his final wrestle-off and lost his position in our line-up. He did not compete in last week's ILH Championship and he will not have a chance to become a four-time finalist and two-time state champion. What is remarkable is that Bryson continues his amazing leadership in the wrestling room and at competition. He's clearly disappointed that he's not competing, but when he's around the team, he keeps his head up, his emotions positive, and does his best to make sure everyone's ready to compete.
For the past four seasons, Bryson lived and breathed wrestling for 10 months a year (the other two, he's competing in judo). No one works harder than he does and no one is more passionate about the sport than he is. I can't imagine how difficult it must be for him to be on the sidelines — it must be excruciating. But I am in total awe of his dedication to the team.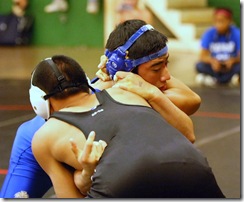 Last season, ARNOLD TORIUMI was one of the two best 125 pounders in the state. He had three out-and-out wars with Travis Okano, state champion from Lahainaluna, with Travis winning the rubber match in last year's state finals. This year was shaping up to be just as exciting. Both wrestlers were now at 130, and it was again looking like they were going to be the two top dogs.
At the Officials' Tournament in December, Arnold and Travis met in the finals. As expected, the action was fast and intense. Early in the second period, both wrestlers shot at the same time and their heads crashed into each other. Arnold suffered a fractured orbital and was not only unable to continue the match, he was done for the season. And although Arnold's only a junior, because of eligibility rules related to his transfer from Kalani to Punahou, he is ineligible to wrestle next year. His high school career is done.
If there is one person in the room who may actually work harder than Bryson, it's Arnold. His work ethic in practice and his intensity in competition are inspiring to the team and his absence from the practice mat is palpable. But instead of dwelling on his own misfortune, Arnold is at practice nearly every day (even though he still cannot work out) and is at every competition, continuing to drive his team from matside. Like Bryson, I can't imagine the emotional pain that Arnold must feel, leading from the sideline. I know if I were in that situation, I could not do it. But Arnold amazes me with his enthusiasm, his passion, and his true commitment to the success of the team.
Wrestling is a brutal sport on so many levels. The physical intensity is what outsiders see and to be honest, that's probably the easy part. It's the mental and emotional part that can be especially harsh — and especially to young men and women who are still working to define themselves. How devastating it must be, to focus your hopes and dreams, to work harder than you've ever worked on anything else in your life, only to face the reality that you will not reach your goal.
Randy Pausch, in his now famous speech at CMU, reminds us that you cannot control the cards you're dealt, only how you play them. For years, I've told the wrestlers that the heart of a champion is defined not by how they deal with success, but by how they deal with adversity. This season, no one personifies those sentiments like Bryson Fukushima and Arnold Toriumi. Great leaders and true champions, indeed.
Gentlemen, Thank you.