Braddah Ray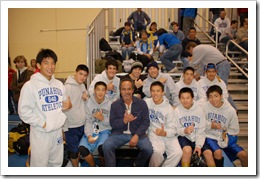 Looking at Rick Dang's pictures from The Clash reminded me of a great story that I should've written about earlier.
When we checked in to the hotel, there was a message waiting for us at the front desk — "Call Ray Kealoha", with a couple of phone numbers. Neither Matt or I knew who Ray was so after we got the wrestlers settled into their rooms and got everyone fed, Matt gave him a call.
Turns out Ray's from Kalihi and was moved out to Rochester 10 years ago by the National Guard. He read about us in the paper and just wanted to extend a little Aloha to the boys as they got settled into the Minnesota cold.
Ray is great! He joined us at the tournament on Saturday and hung out w/our parents, cheering us on. He was also super helpful when we were stuck at the Rochester airport, trying to figure out what our options were. Ray got us a deal on a hotel in case we needed to spend the night, and stayed at the airport most of the day to keep everyone company.
Braddah Ray, you promised to drop by our wrestling room the next time you come home — looking forward to seeing you again!