The Journey Home
And "journey" is an apt description. Our trip home lasted a day longer than expected. Besides the Aloha Spirit, the other thing we apparently brought to Rochester was a "heat wave" of sorts (temperatures actually reached the 40's!). Well, when you mix warm air and cold ground, you get fog. Lots of fog. Very dense fog.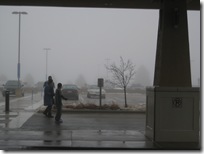 We were scheduled to leave Rochester @ 6:10am, but all flights were delayed, then canceled, throughout the morning due to very heavy fog. We waited around the airport until about 11, then got a shuttle back to the hotel to wait there. The incredible hospitality of the folks in Rochester made our delay a bit easier. The hotel let us hang out in their banquet room and gave us back one of our hotel rooms at no charge. And not only did the shuttle company drive us back and forth to the airport for free, the shuttle driver kept checking in with us all afternoon, giving us updates on the airport situation.
Because of the delay out of Rochester, we missed our connection in Chicago. The coaches spent most of the afternoon on the phone with the airlines and with Mrs. Hee back in Hawaii, trying to figure out how we were going to get home without missing any more school than absolutely necessary.
By the time we departed Rochester for Chicago, the best we could do is to split the group in two with one group scheduled to arrive at 8pm Monday and the other group needing to spend an additional night in Los Angeles, not scheduled to arrive home until Tuesday at noon(!).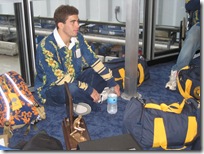 While Oney & Mr. Beachy got the team over to the hotel for our overnight stay in Chicago, Big Rudie & I set out to see if we could get the second group home sooner than Tuesday. Frustrated by the runaround we were getting from United, I called Jeremy Kort's (2004 team captain) mother, who works for American Airlines in Honolulu. Talk about saving our okole big time! She very quickly arranged for our second group to get onto a direct flight that American had from Chicago to Honolulu and took care of all the back end administration.
Thank you, Patty!!!
When all was said and done, one group arrived home at 3pm on Monday and the other later that evening. Even with the extra hassle of our trip home, I can't say enough about what a great experience this was for us. The wrestling was outstanding and it showed us that although we can certainly compete against some of the better teams in the country, we still have a long way to go. Just as memorable was the overall travel experience, from the cold and snow to the warm hospitality of the tournament staff and the people of Rochester.
I can't wait to go back to The Clash!