Snowmobiling!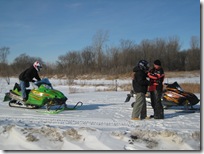 After our morning workout, a bunch of Chuck Siefert's friends brought some snowmobiles for the boys to ride. And even though the temperature was 12°F (and below zero, with wind chill), the guys had a great time. It was the first on a snowmobile for everyone and, despite Oney's warning, the wrestlers got to ride solo.
It seems everyone heard about our snowmobiling experience. At the coaches' dinner this evening, we must've been asked about it 8 times. Everyone seemed to really get a kick that a bunch of kids from Hawaii were playing in the snow.
As you can see from the pictures below, we even had TV coverage (we were on the evening news) and the local newspaper even ran a small article: High school wrestlers from Hawaii get first taste of snow.