Rochester, MN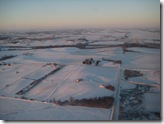 We're here! We arrived @ 8:30am, minus 9 bags and frozen to the bone. Weather when we landed: -4°F. That's really cold. And we know it's really cold because all the people who live here think it's cold, too.
Our hotel is in downtown Rochester, directly across the street from the Mayo Clinic. It's quite a nice place, especially considering what a great room rate we're getting.
The people here have been incredibly nice. Steve Patton, the tournament director, was there to greet us at the airport and the shuttle to the hotel was warm and waiting. Our hotel rooms were even ready when we arrived @ 9, even though check-in's not until after noon.
After getting settled in, we headed over to a nearby restaurant for breakfast, then went to the  Rochester Training Center for a workout.
We're still working on figuring out exactly how much clothes we need when we're outside. Fortunately, we don't need to be outside very much as even the 75 yard walk from the shuttle to the workout facility can be brutal.
After our workout, we came back to the hotel for a few hours to relax and explore the town but there's not really a whole lot around nearby. Mr. Beachy & Uncle Rudie went to the airport to pick up our wayward bags and all the kids now have all their stuff.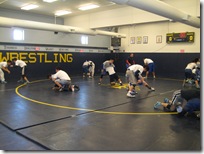 We had another practice session at 6p, came back to the hotel for dinner, then turned in. We purposely didn't let the kids get much rest today and made them work a fair bit in hope that they'll start to adjust to the time change by Friday. Needless to say, the guys are pretty exhausted as they probably didn't get much sleep on the plane (I know I didn't) and we've been on the go all day.
The wrestlers get to sleep in a bit tomorrow, as we don't practice until 9a. We've got an afternoon session with one of the local schools, then planning to have a study session and turn in early tomorrow night. Weigh-in on Friday morning is a 7am.