Punahou Wins Division 8 at The Clash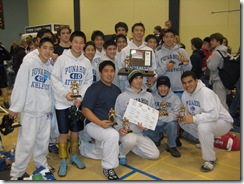 After a poor performance yesterday, we had a much better day today. The boys looked much sharper and wrestled much better.
We started with a little bit of a disappointment, dropping our first dual meet to Goodhue (MN) 30 – 33. We actually had the dual meet all but sown up when our 152 pounder was called for an illegal slam and the Goodhue wrestler was not able to continue.
We won our next two duals, first against Chapparal (CO) and then against Creighton Prep (NE). That left three teams with 2-1 records in our pool and we won based on tie-breaker criteria.
Though it would've been nice to finish our Clash experience 3-3, the tournament committee was complimentary of our 2-4 showing. They reminded us that other than the nationally ranked teams, getting two wins in a team's first Clash is not an easy thing to do.
Congratulations to the wrestlers for a nice performance at one of the premier pre-season tournaments!
Match Results
Punahou 30  Goodhue (MN) 33 (details)
Punahou 45  Chapparal (CO) 18 (details)
Punahou 39  Creighton Prep (NE) 34 (details)